Throw a Totally Bangin 90's Party
Throw a Totally Bangin 90's Party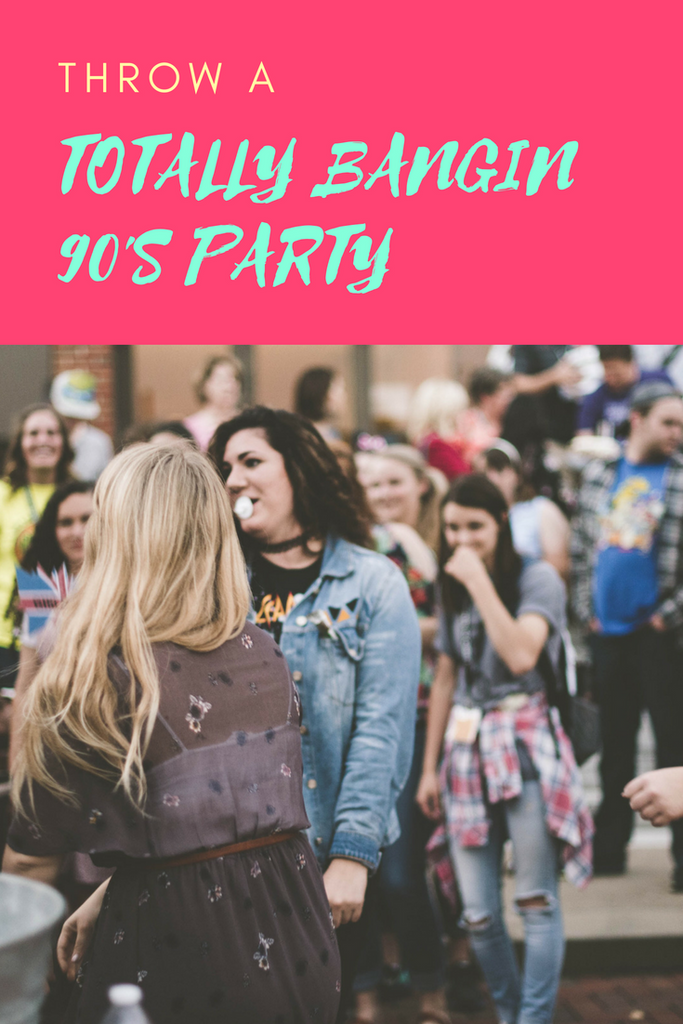 Let's all just take a chill pill, Home Skillet, and reminisce about the good ole days. Of course I'm talking about the 90's. The era of windbreakers, tamagotchis, "talk to the hand", and Clueless. I have so many fun memories from the 1990's and we're even theming my son's 2nd birthday party after the "crunk" decade. If you're as nostalgic about the 90's as much as I am, then you're going to want to take notes; I have some sweet party planning tips for you!
When the guests walk into your crib, the first thing they'll notice are the decorations (no duh)! You can either go loud and crazy with the colors, in true 90's form, or subtly share your 90's love with something like our "Two Cool" banner. The sunglasses in this banner give major 90's vibes. If you're opting for the traditional 90's feel, of course we can customize it so that the neon colors scream, "that's rad!"
To further set the scene for your fly party, here's a collection of the most popular songs throughout the decade that will be a major hit at your party! Bonus points if you can stream the music from your Walkman.
Macarena - Los Del Rio
Too Close - Next
The Sign - Ace Of Base
Whoomp! (There It Is) - Tag Team
Waterfalls - TLC
Ice, Ice, Baby - Vanilla Ice
Wannabe - Spice Girls
Getting Jiggy Wit It - Will Smith
Livin La Vida Loca - Ricky Martin
Only Wanna Be With You - Hootie & The Blowfish
MMMBop - Hanson
Tearin' Up My Heart - Nsync
While the jams are playing, you can also have some activities going too.
Paper Fortune Teller.
I'm dreaming of a paper fortune teller station. Y'all remember those right? That small but powerful piece of paper, folded just right, which reveals a final statement about your future life after selecting various colors and numbers. Here's a quick and easy tutorial on how to fold your very own fortune.
Twister.
Another obvious classic party activity is to play Twister! The thing that I love about this game is that any age can play! The birthday boy, grandpa, and Aunt Ashley can all join in the fun! And pro tip: if you want to make it a little more challenging, you could add some sort of shaving cream to each colored dot to make everyone work just a little harder at staying steady.
Card Game.
One thing that really takes me back to the 90's is, "Where in the World is Carmen Sandiego?" Am I alone in this, or do y'all also remember every word to the theme song and trying to figure out WHERE in the world is Carmen Sandiego?! Well, this card game would be such a fun addition to your 90's party!
Of course, the party wouldn't be complete without some totally rad party favors! The possibilities are endless. Mood rings, slap bracelet, scrunchies, and pogs (personally, one of my favorites!) are just a few ideas. Or, you can go the foodie 90's route with Fruit stripe gum, Dunkaroos, or Gushers. Regardless of what you gift your guests with, they will surely leave your party thinking, "that was all that, and a bag of chips!" It will be a party to remember.
Booya! Now all that's left to do is to grab your polaroid or disposable camera and capture the fun.
-Allison Skinner