Cake Hacks
Cake Hacks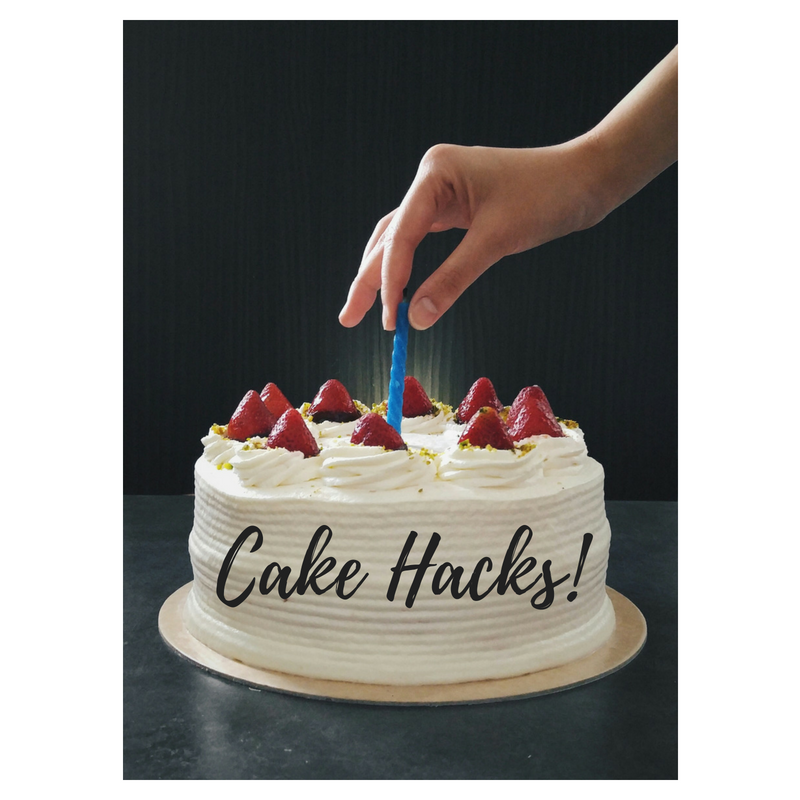 I love to cook, always have, and I am obsessed with Food Network, and reading cookbooks, and daydreaming about my next meal. There aren't too many things that intimidate me in the kitchen. However, I am not a great baker. I suspect it has something to do with having to be so precise and so patient, neither of which are in my wheelhouse. So, when it comes time to make a birthday cake, or any celebratory cake, I get a little nervous. Recently, I have been perfecting my cake baking and decorating hacks to take the pressure off on the big day and I think you'll love these tricks & tips.
Fake It Until You Bake It
The first tip I have (and I'm not ashamed in the least): use cake mix! Yes, use the boxed stuff, but jazz it up to make it taste like it came from a bakery. Here's my favorite fake out: whatever amount of vegetable oil the cake mix requires, use double that amount of melted butter instead, swap out the water for an equal amount of whole milk, and add one extra egg. That's it! The cake will be richer, more flavorful, and more moist. Secondly, ignore the instructions on the box for mixing. Usually, it will tell you to mix for 30 seconds by hand, then mix at medium speed for 2 minutes with an electric mixer. I have found that this puts too much air into the batter and once you remove your cake or cupcakes from the oven, they deflate as soon as they hit the cooler air. If you mix it gently by hand just until the ingredients are combined, you'll end up with the perfect texture.
Sneak In The Good Stuff
Another quick and easy way to hack a cake mix is by adding flavorings. Try adding a tablespoon of instant espresso powder to a chocolate cake mix for a deeper, more chocolatey flavor. Add a 1/2 teaspoon of almond extract to white cake mix for a hint of gourmet sweetness. Add the zest of a lemon to vanilla or lemon cake mix for a burst of fresh flavor. Filling your cupcakes is another way to add great flavor and an extra special touch. Just use a melon baller or a piping bag tip to hollow out a small bit of the cupcake from the top. Then, spoon in your filling of choice: Nutella, raspberry jam, lemon curd, marshmallow cream; the possibilities are endless! Pop the little tops back on before you frost them, or do the logical thing and eat them. Nobody will miss them. You can also gently stir in a 1/2 cup of sprinkles, by hand, right before you pour your batter into the pan for a colorful surprise inside!
Decorating Like a Pro
As big of a fan as I am of cake mix, I haven't found a pre-made frosting that I could stomach, so I always rely on my favorite & easy buttercream and cream cheese frosting recipes. My biggest tip here is to set the butter out on the counter the night before (and the cream cheese out early in the morning on the day of), so that everything is super squishy and mixable. You can always dye the frosting any color you'd like to match your party theme. I like gel food coloring more than the liquid type because the colors are more vivid. If you're anything like me, your cake decorating skills end at spreading the frosting on. So, if you want to wow your guests, just cover the whole thing in sprinkles! If it's cupcakes, just turn them upside down and dunk the frosted cupcakes into a bowl of sprinkles until the whole top is covered. If you made a cake, scoop up handfuls of sprinkles and lightly press them against all the sides and the top of the cake until there's not a hint of frosting showing. It's the culinary equivalent of airbrushing; it will look flawless! We LOVE the selection of sprinkles from Neon Yolk Shop because there is literally no color combination on the planet that they can't make.
Don't forget the top of your cute confection, either. We make cupcake and cake toppers in any theme you can think of from unicorns, to fire trucks, to donuts. And, as always, if you can't find what you want in our shop, just send us a message and we'll custom make anything you need! So, don't be afraid to roll up your sleeves and get elbow deep in some cake batter; there's nothing to fear with a box of cake mix near!
Happy baking!