Flashback Birthday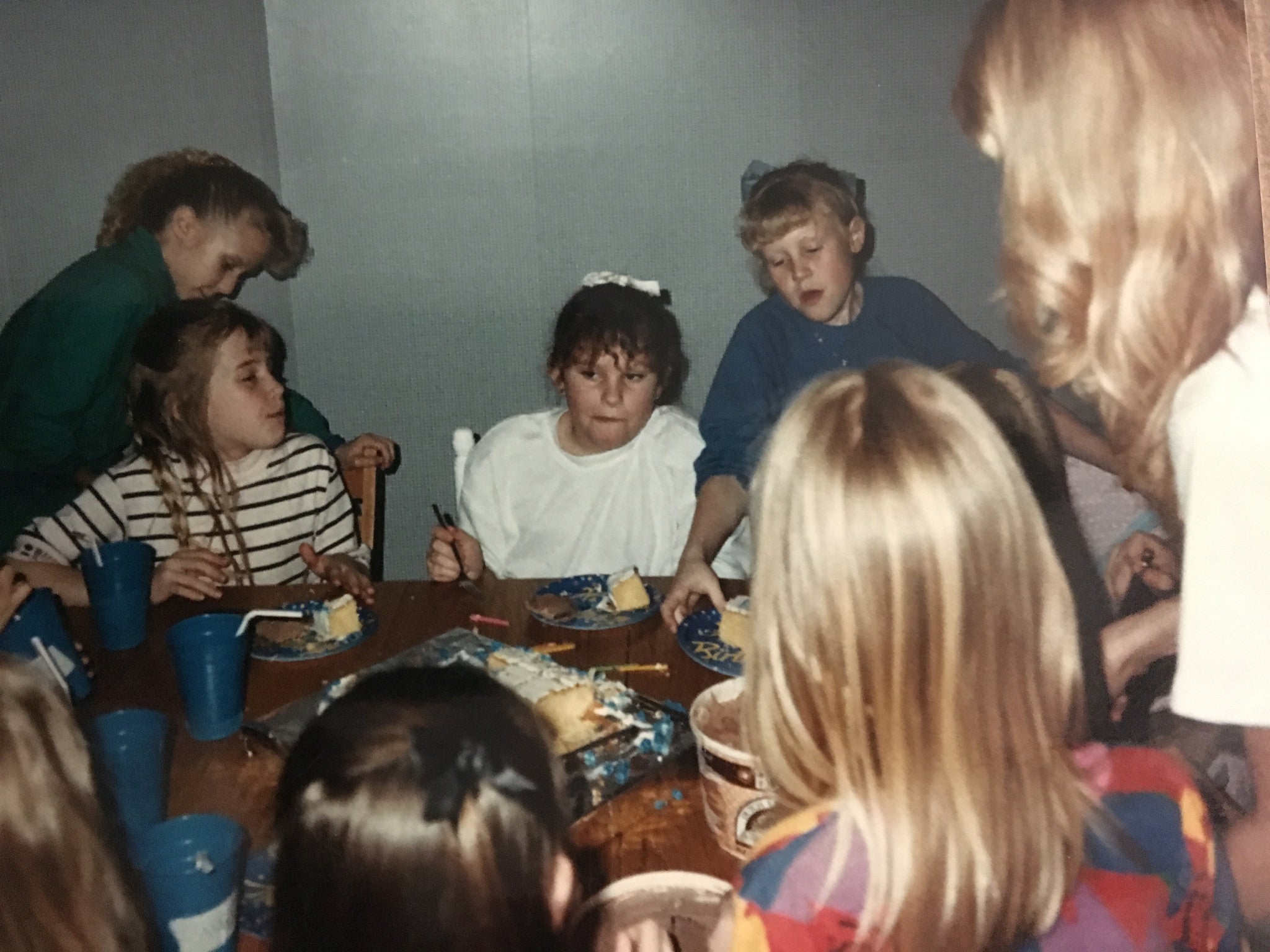 Flashback Birthday: Parties Then and Now 0
I'm doing some Spring cleaning and trying to make room for baby number 2, and I came across some pictures from one of my birthday parties when I was a kid; I'm guessing I was turning 11, or so. I can't help but laugh considering I create themed parties for a living now, and there was no discernable theme, other than crimped hair and big bows on me and my guests! I remember that at this slumber party we made biscuit dough pizzas, we played pass the potato using only our chins, and that my dad came out of his room in his tighty whities at 3:00am to tell us to quiet down, but no party theme to speak of. I'm guessing we just giggled and talked about boys until passed out. Don't get me wrong, I don't judge my mom; she had four of us and access to custom party decorations was slim to none in my tiny hometown. She did make a hell of a cake, though!
What I love about a themed party, besides it being super cute, is that it serves as sort of a bookmark for what my son loved at each age. At 1, he loved his pirate bath toys, so we threw a pirate themed party and it was so cute! We have some awesome pirate themed decorations for your little matey, too: banners, cupcake toppers, pirate hats & eye patches, and anything else you might need! For birthday number 2, he cared only about trains, so a train party it was. You have a choo choo lover? We have you covered! How cute is this train station banner and these centerpieces?! For the big number 3, it had to be big trucks! My favorite of all the truck decorations were the cupcake toppers that looked like they were scooping up the chocolate frosting. Who knows what he'll love when he turns 4, or what his baby sister will love when she arrives? But, whatever it is, they will each have a themed party to remember, and I'll have the pictures of what they loved to treasure forever. Afterall, my memory isn't getting better as I get older!
We have the decor covered, but you'll still need plates, forks, cups, table cloths, and napkins. Go big on the decorations, and leave the rest simple!