Sweet As A Berry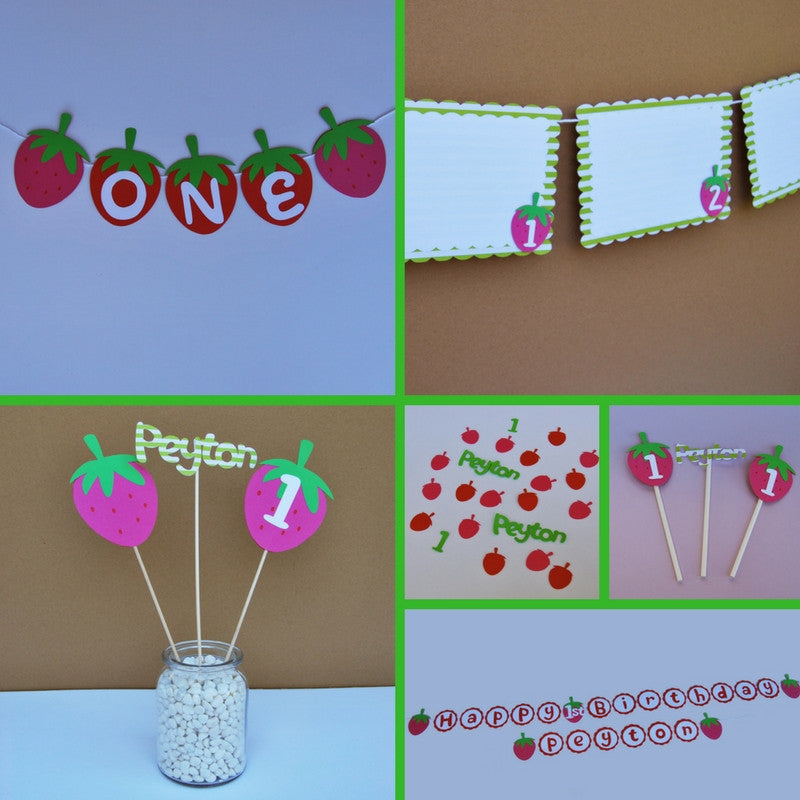 Sweet As Can Be 0
As a little girl, I was obsessed with Strawberry Shortcake. I had all the dolls, the books, the VHS tapes (remember those?), and I even had Strawberry Shortcake toothpaste. I wish I had pictures of the Strawberry Shortcake birthday cake my mom made for me one year; so cute. While the cartoon series may have faded out, I think the theme of a strawberry party is still popular because it's timeless, cute, and perfect for a spring or summer time party. 
When we first got a request from a customer to do a strawberry themed party, we were so excited to come up with the decorations because we had been thinking about it for a while. The request was for a first birthday party for a little girl, and how appropriate is that because what is sweeter than a precious baby girl? Since she would be smashing a cake at her party, one of the first things we designed was this highchair banner. The bright colors and cute font will look great in smash cake photos or a first birthday photo shoot. Since the birthday baby won't be leaving any of her cake for the guests, we also offer cupcake toppers for everyone else. Of course, it doesn't have to be a first birthday party, since we all know they stay sweet forever, right? But, if you are throwing a strawberry themed first birthday, we offer a month-by-month photo banner to showcase how much your little one has grown from birth, to their birthday.
As always, we offer personalized banners, confetti, and centerpieces to round out your party's decor. I love the option to add the birthday boy, or girl's name to all the decor to really celebrate their special day and make it all about them. I also love that the name portion of our banners can be used after the party is over as a bedroom or playroom decoration. When all the decor is coordinated and personalized, the photos from the big day will be memorable and act as a perfect snapshot of that moment in your baby's life.
If you really want to stick with the strawberry theme, this cake recipe is easy and oh so delicious! Turn it into cupcakes and use these sweet liners to match the party! Serve all your sweet treats and party eats on these plates with cute strawberry napkins. To offset all the pink and red berries, a pretty spring green table cloth is a perfect backdrop for your food table, and is a great shade for your party cups as well.
So, Happy Birthday to all your sweet ones out there and and please let us know if we can make their big day special; we'd love to help!