Sweet As A Peach Birthday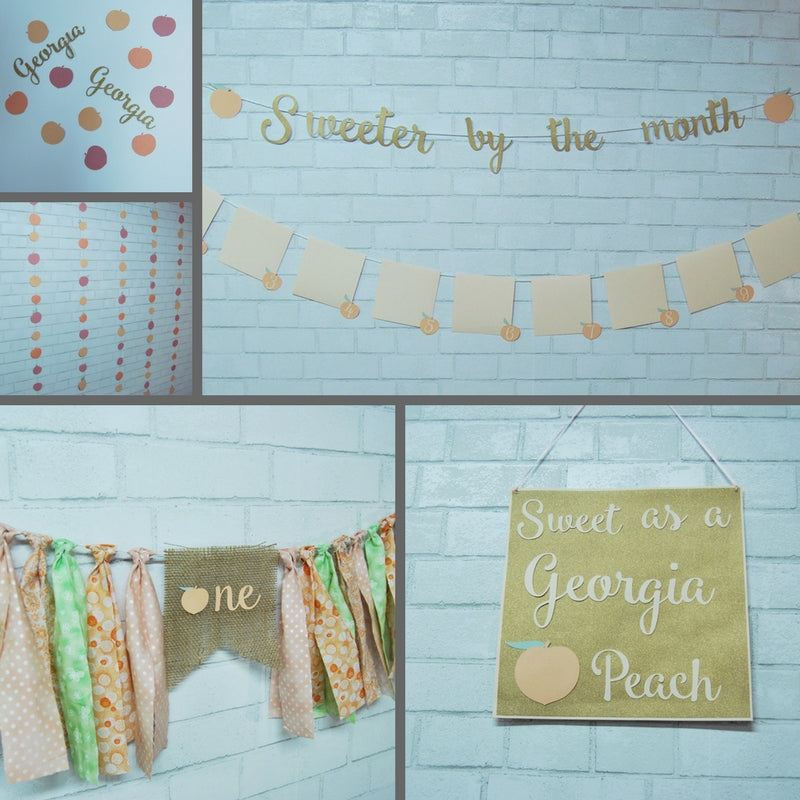 Georgia on my mind... 0
Sometimes we get a custom party request that turns out to be one of the cutest party themes on the planet. Our "Sweet As A Georgia Peach" party is just that; so sweet and so stinkin' cute! A little known fact about Shanti is that she rarely gets nervous about a custom order, or about any craft project really, but choosing the right shade of peach paper just happens to be one of the few things that freaks her out. However, she nailed the shades of peach for this precious party!
If I had to pick a favorite item from this theme, it would the highchair banner. The shades of peach and mint are so pretty, and the burlap pennant gives it a little southern charm. When the party is over, this banner would look beautiful in a bedroom or playroom. It also makes a perfect prop for smash cake photos. And as long as we're talking about cake, why not take the Georgia theme all the way with a peach birthday cake-yum. Mint colored plates and napkins are the perfect accent color for all that peach.
Any parent knows that babies really do get sweeter by the month, and they change so fast! Taking a monthly photo leading up to their first birthday creates a perfect timeline of a year that somehow felt both long and yet way too short. Displaying the pictures on a photo banner at the birthday is a great distraction for your guests so you can sneak away and cry a little because your baby is already a year old. So, double duty. Stressed about how fast time is flying, there's a peach for that, too!
I can't help but think about a plump little baby booty when I see a peach (I blame the emoji!), so naturally, our peach wall garland makes me giggle because it's like rows & rows of tiny baby bums! Whether you think about baby bottoms or not, this garland is a great photo background and can be used as a nursery or bedroom decoration, too. I love the idea of getting double use out of party decorations and it also serves as a fun reminder of the party day every time you see it.
Georgia may be the peach state, but no matter where you live, these decorations are perfect for celebrating your sweet little peach. So, cherish every moment, take lots of pictures of that sweet baby, and when the time comes to celebrate-do it big! Balloons, confetti, the works! They only turn one once, so make it a party to remember.