Wedding Planning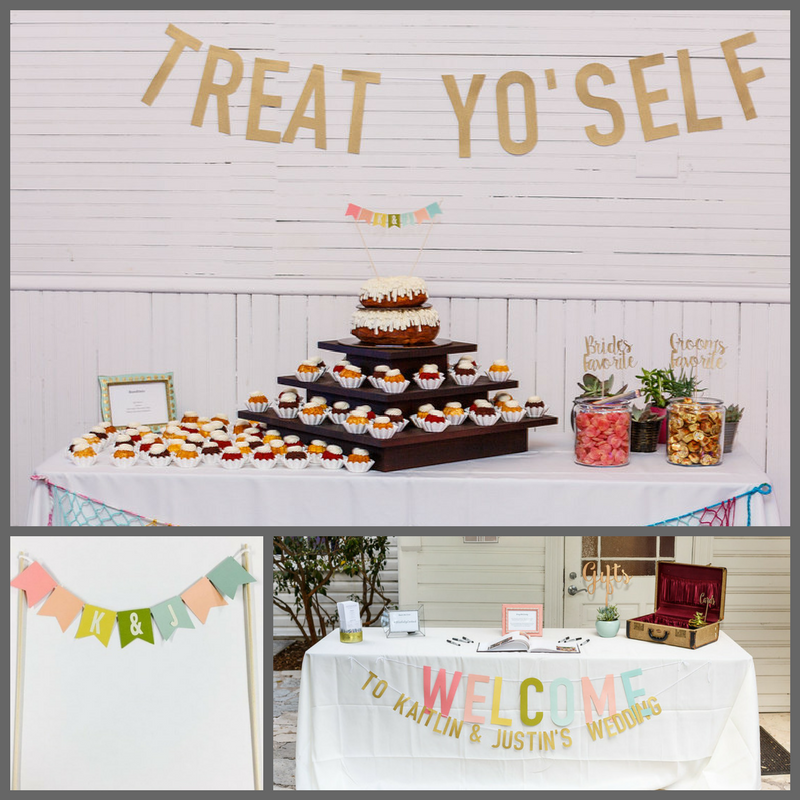 Love Is In the Air 0
Everyone loves love, right? Weddings are such a joyful time and to see two people you care about tie the knot isn't just a party, it's a privilege. As much as Shanti and I both enjoy a wedding and a fun reception, we hadn't ventured into making wedding decorations because, let's face it, that's scary! We have all heard the term "Bridezilla" and we have both planned our own weddings, so we know how much time and thought goes into it. With that in mind, there's a lot of pressure to make the decor just right. So we stuck to bridal shower and engagement party decor until two of our best friends got engaged and asked us to help with the decorations. We had the pleasure of decorating their engagement party and were so excited to be a part of their big day.
It helped that the bride has great style and gave us good direction to get started. The first thing guests would see when they arrived was the sign-in table where invitees could leave well wishes and words of encouragement for the bride & groom and drop off their wedding gifts. To spruce up the plain white cloth on the table, we made a huge "Welcome" banner in all the wedding colors with the bride and groom's names in gold underneath. It was a perfect spot for guests to snap a picture when they arrived and share it to social media to celebrate the couple.
True to their fun loving spirit, we began with the sweets table! The bride and groom each had a giant jar of their favorite candy, peach gummies for her and peanut butter cups for him, and we made signs for each: "Bride's Favorite" and "Groom's Favorite". In the middle of all the candy was the centerpiece made of a tower of little bundt cakes, topped with the wedding cake, and the crowning touch was a cake topper we made in the wedding colors with the initials of the bride and groom. The pennant style was fun and whimsical, and was a departure from the standard monogram style initials or bride & groom topper. Perhaps my favorite part of the dessert table though, was the sparkly gold "Treat Yo'self" banner that hung over the table. Any fans of "Parks and Recreation" will know exactly what that means! The team of pros at Carefree Weddings styled everything to perfection and we couldn't have been happier with the way it turned out.
We know that at the end of the day, the wedding decorations aren't what's most important when two people get married, but it was so special to be able to be a part of such a momentous occasion for two of our very favorite people on the planet. Now, with one wedding under our belt, we are ready to venture into the wild world of wedding decorations! So, whatever your wedding style or budget is, we'd love to help create custom decorations that fit your personality and your taste exactly. 
Much love!
-Heather and Shanti