Cupcake Hack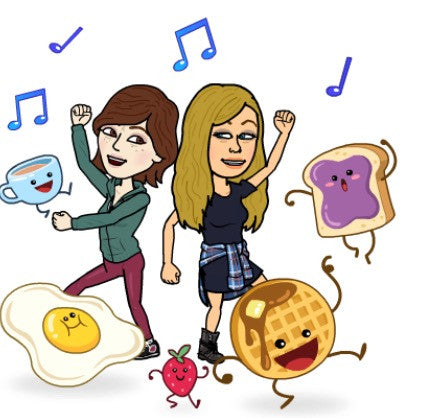 Party Food! 0
Anyone who knows me well knows that I am food obsessed. I worked as a corporate chef for a few years, I read cookbooks like they're novels, and food tv is basically the soundtrack playing in the background of my day-to-day life. Shanti is also a food lover and we spend a good amount of our work days chatting about where and what we've eaten that week and what we want to eat that night. So, while we obviously love party decorations, we never ignore the party menu either! Today, I wanted to share some of our favorite party food tips and recipes.
First, we both love cupcakes and they make an appearance at every birthday party or baby shower we host. Now, I love to cook, but I'm not the best baker. I suspect it has something to do with my poor math skills and lack of patience, but I digress. Recently, I found a baking hack that has taken my cupcakes to a new level and it works every time. The best part? You get to use a box of cake mix! Here's how it works: grab your favorite brand & flavor of cake mix, swap the vegetable oil for twice the amount of melted butter, swap the water for equal parts whole milk, and add one egg. That's it! Bake according to the box instructions and they will come out tasting like bakery cupcakes. As for frosting, I'm not the biggest fan of buttercream, so I use a cream cheese frosting recipe.
Aside from the cake or cupcakes, you need some good munchies to keep your guests happy and the little ones from melting down and we have some tried and true favorites. First, is corn dip. Delicious, unapologetically southern, fattening, yummy corn dip. Shanti and I have both made this dip countless times and people freak out over it. Serve it with corn chips and watch people go nuts. (If you're anti-mayo, just use all sour cream) It's pretty standard practice for us to round out the dip options with our favorite jarred salsa, guacamole, and queso. It's Texas; we can't help ourselves.
To ease our consciences a little, we usually put something healthy on the food table in the midst of the creamy dips and sugary cupcakes. Fruit skewers are a favorite. There's really no recipe; you just assemble and-done! They look beautiful with whatever fruit is in season, and kids of all ages love them. A veggie tray is always a good idea, too. Even if you dunk them in obscene amounts of ranch dip, at least you and the kiddos had a crunchy raw veggie, right? For a lighter than ranch veggie dip, try a Greek yogurt recipe.
Hungry yet? We hope some of these recipes and tips will help you plan the perfect menu for your next party, and be sure to visit our Pinterest page for lots more food and drink recipes for a themed party, or any occasion!