Over the Hill? Says Who?!
Over the Hill? Says Who?!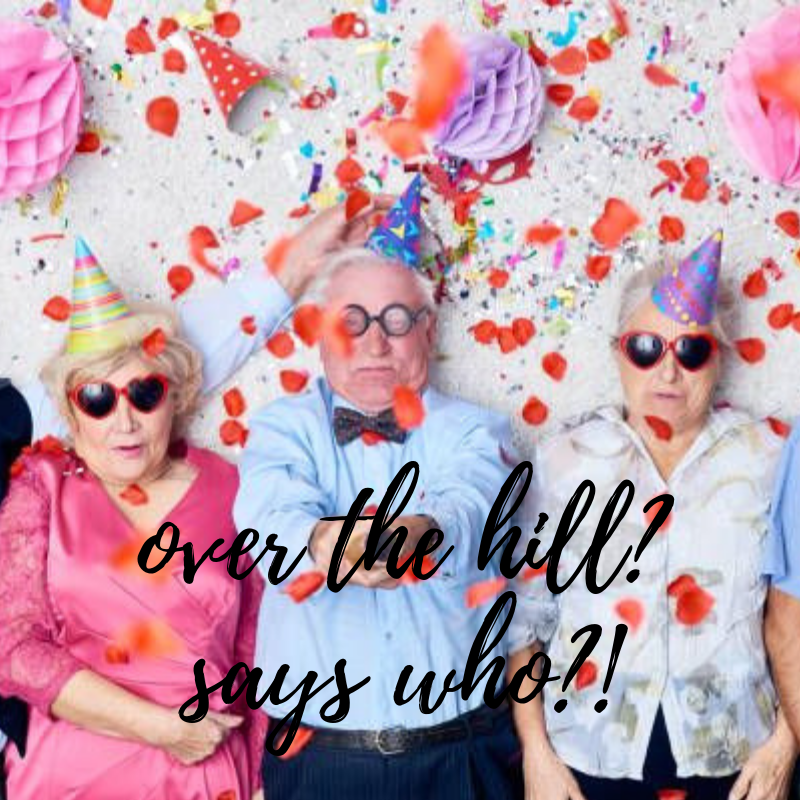 I have a big milestone birthday happening in a year and, while I do have some moments where I literally gasp out loud at the thought of it, I refuse to get bogged down by the idea of being "over the hill". In fact, I'm already planning the party! 
30's
First, let me make it very clear that I don't think 30 is over the hill, but it can feel that way as you say goodbye to your twenties. So, with that in mind, if you're dreading the transition, make the best of it with a fun party and sparkles everywhere! Bubbly makes every occasion more fun & festive, so create a signature champagne cocktail for your guests to sip and top them off with our "Cheers to 30 Years" straw toppers. I have nothing against cupcakes at all, believe me, but for a 30th birthday, I think a big towering layer cake is the way to go, and you must top it with something sparkly and festive! While you may feel less inclined to snap a selfie the older you get, you MUST take pictures on your birthday! Our 30th birthday banner is a beautiful decoration and it doubles as a great background for birthday pictures!
40's
Maybe it's my past as a language arts teacher, but I've always liked alliteration, so a Fortieth Fiesta seems perfect! I mean, any excuse to have tacos and queso is a good one, but a 40th birthday is a great reason to gather your friends and family, and set up a taco bar to be remembered! Color is the name of the game at a fiesta and we gotcha covered: banners, garlands, centerpieces, cupcake toppers, and everything in between! Pinatas aren't just for kids, and who says you have to fill them with candy? Grab a cute llama pinata and fill up small plastic liquor bottles with tequila. Bash it open and watch as your adult friends scramble around on the ground like a bunch of hyperactive 5 year olds grabbing for their favorite sweets.
50 and Over
Embrace it, deny it, but whatever you do-celebrate it! Our "Young AF" and "Old AF" banners are a great way to laugh at getting older and your friends will love it too! Want to party, but also want to get your 8 hours of beauty sleep? Let guests know, in the most stylish way, exactly when the party is over with our "Let's Party, but Only Until 9pm" banner. Everyone will have fun and still be able to fully adult the next day. 
Happy Birthday, everyone!