Gender Reveal Party Ideas
Gender Reveal Party Ideas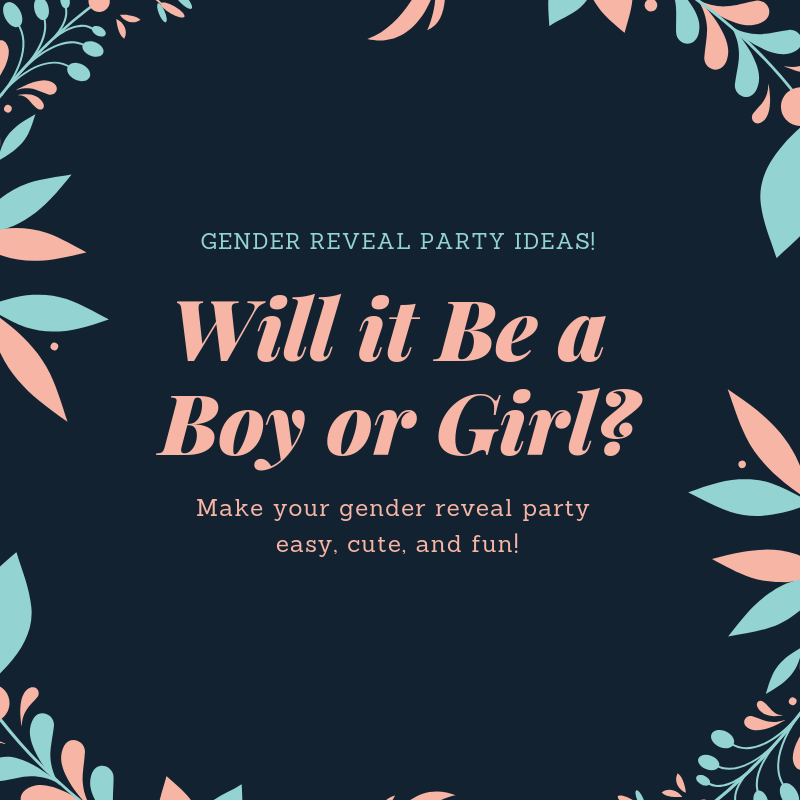 I have noticed through social media lately that people have very strong and polarizing opinions about gender reveal parties. Recently, a couple accidentally set a wildfire when they lit colored smoke bombs for a gender reveal photo shoot and, needless to say, people were upset. Then, there are really funny mishaps where the pink or blue center of the cake is actually purple and the expectant couple is left wondering what the baby will be. Oops! We love any excuse to throw a party and, while we don't condone pyrotechnics during a dry season, we do have some other fun ideas to throw a great gender reveal party.
Themes
The themes for a gender reveal are endless and can easily be tailored to your family's likes, or interests. I've seen everything from "Tutus or Touchdowns" to "Buck or Doe". Of course, we can create any gender reveal theme you can think of, but two of our favorites are "Boots or Bows" and "Cupcake or Stud Muffin". Carry the theme all through the party with banners, centerpieces, confetti, and cupcake toppers. Go with the standard blue and pink color scheme, or with any colors that you love and will make your party pop!
Activities
Go through the old wives tale list of gender prediction techniques and try some at the party.
1) See how the ring swings:
You need a wedding ring: String it on a necklace and hold it over your belly. If the ring moves in circles, the baby in your belly is a girl. If it swings back and forth, it's a boy.
2) See what the kitchen can tell you:
Have someone tape a spoon under one chair and a fork under another without the mama seeing which is which. If she sits on the chair with the spoon, she's having a girl. The fork? It's a boy.
Food
For food, you can create the menu around the mama-to-be's cravings, so it could be anything from a sundae bar with a pickle buffet, or if it was me, there would be plenty of spicy food and orange juice by the gallon! If you want to go more traditional, you can theme the food around "Slime and snails, and puppy dog tails" for boys and "Sugar and spice and everything nice" for girls:
"Boy" foods: pigs in a blanket, dirt cups with gummy worms, and mixed nuts (get it? hee hee), and quench everyone's thirst with blueberry lemonade.
"Girl" foods: dip EVERYTHING in pink candy melts! Try pretzels, marshmallows, and chocolate sandwich cookies. Sugar and spice popcorn and pink lemonade will round out the menu perfectly.
The Big Reveal
1) A Cake Reveal: if you don't trust a bakery to get it right, you can easily dye a white cake mix blue or pink and cover it liberally with frosting so no color pokes through! For a bigger "wow factor", do a filled cake; it's easier than you think. Again, I'd go with cake mix to make life easier. You'll need four layers which will need two boxes of cake mix. Bake the cake in 4 round pans. When the cakes are cooled, use a biscuit cutter or drinking glass to cut the center out of 2 of the cakes. Stack them like this: solid cake layer on the bottom, frosting, cake with a hole, more frosting, second cake with a hole, then fill the hole with pink or blue candy or sprinkles, frosting, final solid layer, then frost the outside.
2) Confetti Popper Reveal: We can customize our birthday confetti poppers for a gender reveal. We fill the poppers with pink or blue confetti, decorate the outside to keep your guests in the dark, and when the time is right, party goers shower the couple in a shower of confetti
3) Balloon Box Reveal: You have to go with helium balloons for this, or the reveal will be a little sad as the balloons won't rise from the box. Tape the balloon strings to the bottom of the inside of the box, making sure that there is enough string to allow the balloons to rise out when the box is opened. Wrap the outside of the box in baby themed wrapping paper, or in half blue and half pink paper. Only use a smidge of tape on top of the box so that the couple can open it easily. Nothing kills the momentum of a gender reveal like a balloon box that won't open!
Go on, have the gender reveal party AND the baby shower! Once the baby comes, you won't be partying for a while, so live it up now! Plus, nobody tells a pregnant lady "No" so take full advantage!