15 Cake Alternatives For Your Next Party
15 Cake Alternatives For Your Next Party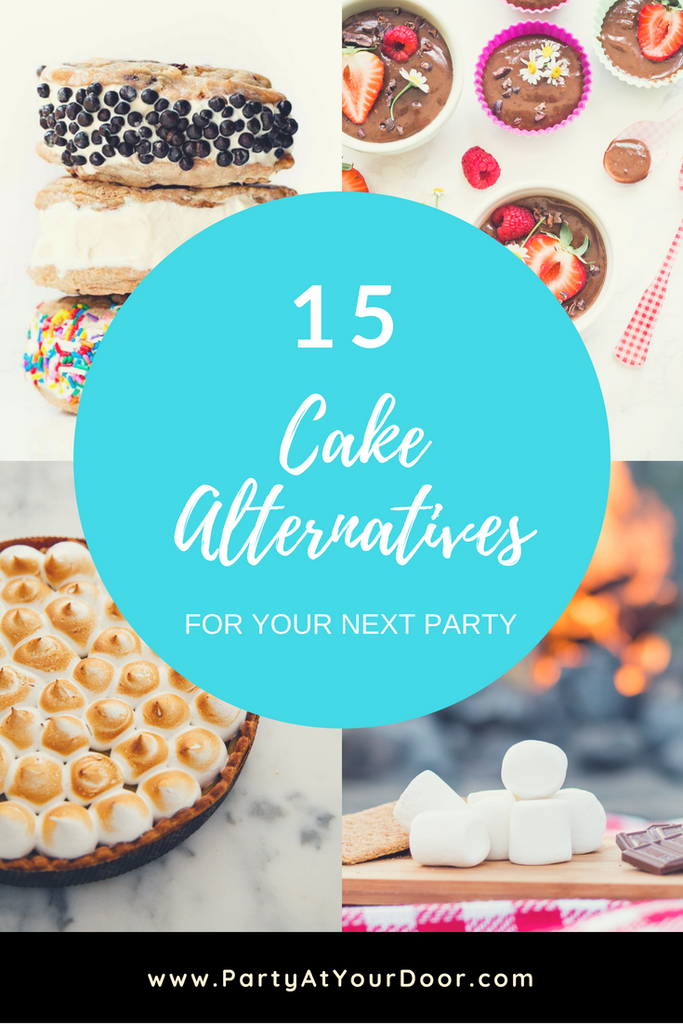 The one thing I love as making custom party decor is cake. I LOVE CAKE. But sometimes you just want something new and different to serve as your next party dessert, and for that, we have you covered!
15 Cake Alternatives For Your Next Party
Cupcakes. So this one is pretty obvious, because it is basically cake, but I love the ease of serving and eating cupcakes. People can grab one as they wish, and you don't have to worry about cutting and serving the cake at any specific time. For kid parties I often serve mini cupcakes because they are even easier and less messy, and then everyone can treat themselves to 2 (or 3 perhaps), which is especially fun if you have multiple flavors because then you get a little taste of everything. I prefer a simple frosting on top that can put decorated with a custom cupcake topper to match your party theme, as well as your kid's name and age. They also look so cute displayed on a variety of cupcake stands and cake stands!

Candy. Candy tables are so fun to put together and also look so cute when displayed in little glass jars, vases, and bowls. You have so many options, that everyone will be happy. Chocolates, gummies, sours, mints, jelly beans, rock candy, lollipops...the options go on and on!

Donuts. Donuts are delish. Morning, noon, or night, they are just so freaking yum! And the options to display your donuts is so fun and different. You can hang them like this or this. Stack them like this. Stick them on a skewer like this, AND you could even contact us to create the skewers for you, so they have cute little designs on the end to match your theme. I mean, that would be adorable! And lastly, I've heard many local donut shops will make donuts in different letters to spell out different words and phrases, which is such a fun personal touch to the party.

Cotton Candy. "IT'S SO FLUFFY I'M GOING TO DIE." Please tell me I'm not the only one that has seen those movies 23489375689 times because kids right?! Anyway....cotton candy is so fluffy and sugary and colorful. You can buy it pre-made in bags or buckets, or even hire a company like Fancy Fluff to come and make it on site, which would be the MOST fun!

Cookies. Heather's husband is a traditionalist and will always ALWAYS choose the chocolate chip cookie. I am a sucker for these super soft oatmeal chocolate chip cookies (sans walnuts!), while so many people go bonkers for the adorbs decorated sugar cookies. Those sugar cookies are waaaaay outside of my area of expertise, and I know most baker's calendars fill up super fast, so if you are thinking about decorated sugar cookies, place your order early!

Ice Cream Sandwiches. If you're looking for a twist on the traditional cookie, a homemade ice cream sandwich is fun, but messy, option. These are always a big hit at our parties, and great since you can make days before and store in the freezer, but they ARE A MESS to eat.. Because of this we normally only serve them by the pool where it is easy to hose off the sticky ground, and clean our sticky bodies with a dip in the pool! Don't forget to roll the edges in sprinkles or candy for an extra touch of fun!

Pies. Apple, Cherry, Strawberry, Lemon Meringue, Banana, and Chocolate. The list of pies goes on and on. Such a classic dessert option that is rarely served at parties. Don't reserve this one for the holidays, bust it out for your next party!

Brownies. My youngest would tell you that our friend Kaitlin makes the best brownies. When we mention Kaitlin is coming over, she normally asks if she's bringing brownies. Traditional chocolate brownies are always tasty, especially with a scoop of ice cream, and the Ghirardelli Brownie Mix is up there with one of my easiest and tastiest quick dessert options. You can also get crazy and drop cookie dough batter on top, caramel bars in the middle, or peanut butter chocolate frosting on top. Those little additions will bring your brownie experience to a whole new level of awesome. 

Rice Krispie Treats. This was always a favorite when I was in elementary school, and so so easy to make. Plus they leave you a blank pallet to add some decorations to match your theme. Some of my favorite decorated rice krispies are these that go so well with our monster decor, these, and these that would be adorable with a twotti fruity partythe best recipe out there.  Looking for a new recipe, this promises to be , let me know what you think!

Chocolate Fondue w/ alllll the things to dip. What is there not to love about liquid chocolate?! You can put out a variety of things to dip, and people can dip for days. Make sure to cover the sweet (strawberries, bananas, cherries, lady fingers, wafers, marshmallows and biscotti) and your savory (pretzels and potato chips). Get that chocolate flowing and let the dippin' begin!

Popsicles. These are possibly my husband's favorite treat. He prefers homemade in his Zoku and for Father's Day we just upped his game with this book. You can also just buy a bunch of popsicles in a variety of flavors, and have a nice cool treat for a hot outdoor Summer party. And if the entire party is popsicle themed, we have your custom party decorations covered too!

Pudding Cups. Oreo Pudding Cups were my JAM when I was in elementary school. We didn't eat them at home, so when a friend would bring them to share with the class on their birthday I would get SO EXCITED. What is not to love about pudding and oreos?! Or try the more adult version with berries dropped on top. Yummmah!

Jello. J-E-L-L-O! I love that is comes in so many colors, which is a great way to bring your table to life. You can do fun cut outs Jello jigglers or layer it up for a rainbow of fun.

Smores. This is hand's down Heather's favorite thing. Like EVER. She can give you 100+ s'more recipes, but for a backyard party, there is nothing more nostalgic (and sticky) as good ol' fashion roasted marshmallows over a fire. But I beg you, please get organized, or every mom will spend their time gathering graham crackers and chocolates and realize 45 minutes later she's exhausted and yet to enjoy a mallow for herself! 

Popcorn Cake. This gem is a delightful mix of salty and sweet, and also has a soft chew with a nice crunch. I don't know how one dessert can capture it all, but it does. It is also a nice base that gives you lots of options for add-ins. Stick with the traditional chocolate chips and pretzels, or go with a festively spooky gummy worms option around Halloween. 
And now I have a major sweet tooth, so you can find me in the kitchen whipping up a sweet treat!