When I Dip, You Dip, We Dip
When I Dip, You Dip, We Dip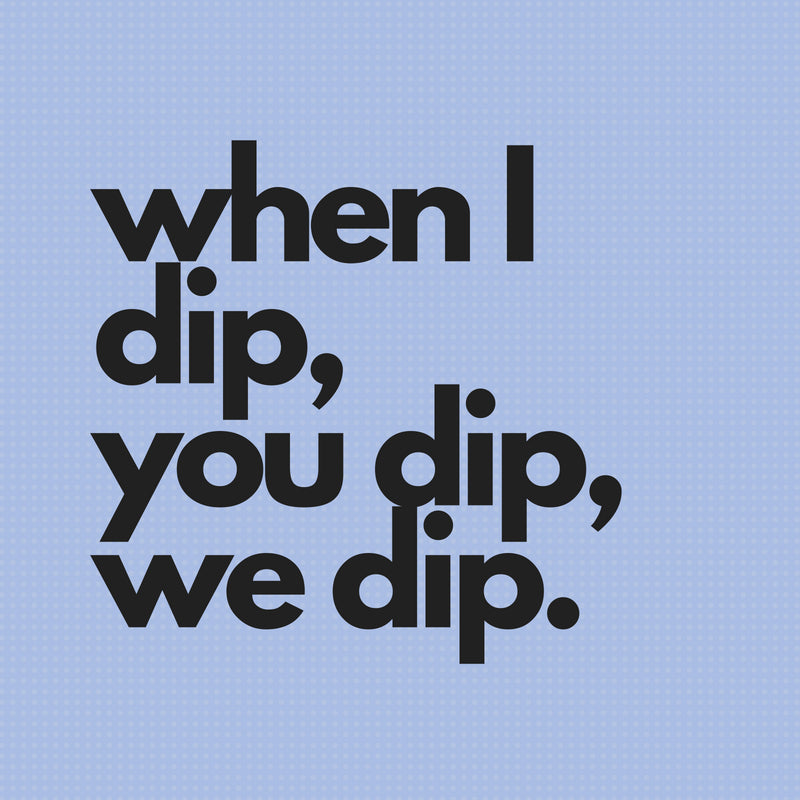 Okay y'all, it's time to talk about the ultimate party food: dip, all the dips. Shanti and I are both dip enthusiasts and never ever throw a party without serving one, or three. As two gals who love to eat Tex Mex, and since we live in Austin, we are both queso and guacamole enthusiasts and, dare I say, experts. But, our dip game goes way beyond the usual suspects. Next time you are throwing a birthday party, cocktail party, or having a night of bingeing Netflix, we have more than just your custom party decor covered, we've got you covered on the dippable munchies too.
I have to start with our mutual favorite dip: Mexican Corn Dip. I love this dip so much that I requested Shanti make it for my baby sower, and because she's a rad friend, she made enough for the party with plenty left over for me to dive into. I would grab the chips (Frito's or tortilla chips, always), fill a bowl with it, set it on top of my giant pregnant belly like a table, and destroy it. We make this dip for parties and showers all the time and it's always the first thing to go. Now, I know people often have strong opinions about mayonnaise, and this dip has plenty, but give it a chance; you will love it! It's perfect for a fiesta themed party, or any summer time celebration.
Occasionally, not often, but occasionally, I feel guilty about eating things that aren't so good for me, so it's nice to have a healthy option of your favorite indulgence and for me, that's chips and dip. I found a recipe for Greek Layer Dip that is healthy, flavorful, and a crowd pleaser. Think of a Greek salad, on top of tzatziki sauce, on top of hummus. And the best part is, it doesn't require any cooking, and can be made ahead of time. Serve it with Pita Chips, or veggies. On the complete opposite end of the spectrum, and much more in line with my usual cravings is Caramelized Onion and Gruyere Dip. It is basically extra cheesy gooey French Onion Soup that you dip toasty bread into. I recently had a family gathering where we decided to do an "Appetizer Cook-Off" and I take cooking very seriously, and I also happen to be way too competitive. My husband won't even play a board game with me. If you want to win a cooking competition, you go with cheese. Always. And I did. And I won! I made this smack in the middle of the Texas summer heat, but it would be great in cool weather; maybe during a football game.
I did not forget about dessert; that would be negligent. Where to begin? Obviously with s'mores. If you can't roast marshmallows on an open flame, either because your HOA would frown upon it or just because you're a firm believer in not handing pointy sticks out to children to wave over a fire, you can make s'mores dip in a pan! Shanti may be a bonafide Texan now, but she originally hails from the Midwest; Iowa, to be exact, and they have a dessert dip that should be the official state dish. She introduced me to something called "Peanut Butter Fudge" and-oh my goodness. It's not fudge in the traditional sense because you don't cut it into squares; this is gooey dippable chocolate heaven. Here's what you do: mix 1 cup peanut butter, 1 cup honey, and 1 cup powdered milk together. Spread into a 9X9 pan, cover with chocolate chips, and bake at 350 until melted, then stir. Dip graham crackers, fruit, vanilla wafers, marshmallows, your fingers, a giant spoon into the dish and get ready to live.
Put your bikini body plans on the shelf for a bit, invite some friends over, and get to dippin'! And please, for the love of mercy, don't double dip. Nobody likes a double dipper.
Happy Snacking and Party On!
-Heather and Shanti