Pool Party!
Pool Party!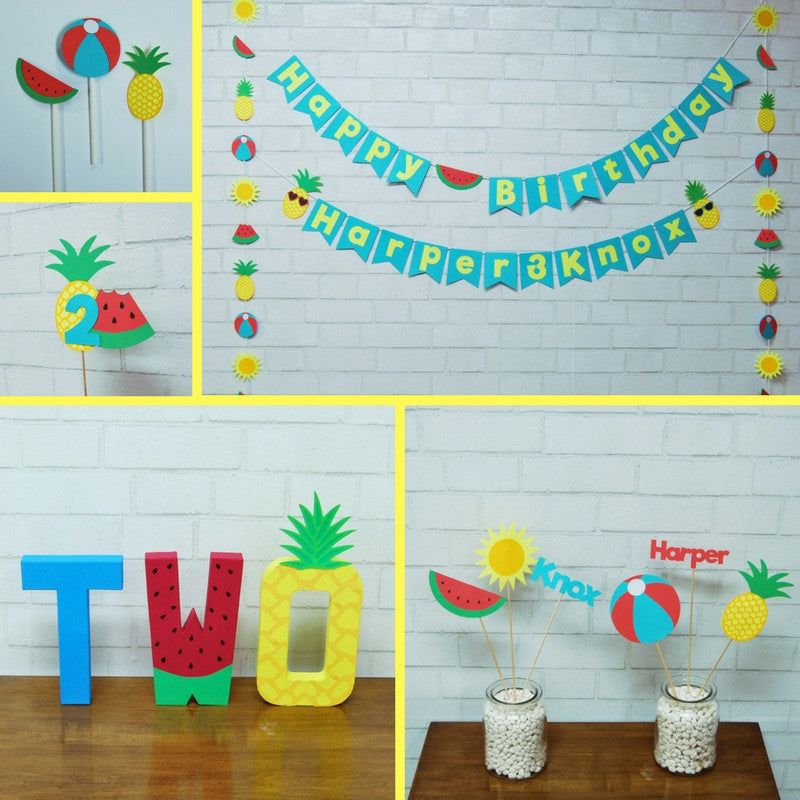 I have a February birthday, and although we rarely have winter weather in Texas, if it does get really cold, it's usually in February. Oh how I longed for a summer birthday so I could have a pool party! Instead of being bundled up indoors, staying away from the cold, and facing school on Monday, I wanted to be splashing around with my friends, with the smell of tanning oil in the air, and the return to school wouldn't even make a blip on my radar. Well, if I can't have a summer birthday party, at least I can create them for some other lucky folks!
These watermelon and pineapple themed party decorations are great for a twotti fruity birthday party or a Summer pool party, but really any summertime celebration is the perfect time for these cute and colorful pieces. A family reunion at the beach, celebrating being out of school (Yay!), or maybe you're christening the new backyard pool-these customizable decorations are just the thing to set the mood for a splashing good time! Change the wording on our birthday banner to fit the occasion, and add garland for a festive touch that can stay up all summer long.
If you're serving cupcakes at your pool party bash, top them with these cute toppers, available in two styles, including pineapples, watermelon slices, and beach balls. Speaking of cupcakes, why not carry the party theme into dessert with these pineapple cupcakes? Quench your thirst with some yummy watermelon punch that you can serve right from the watermelon! Yum! Our centerpieces can be used to decorate a table, as photo booth props, or even as a cute way to fan yourself in the summer heat!
We love this tiki inspired tablecloth for serving all your party eats and treats; it screams summer! I die for these pineapple plates and watermelon napkins, too. And speaking of all those yummy party foods, keep them protected from pesky flies with these pop-up mesh tents and keep them cool throughout the party with these inflatable ice trays; they look just like pool floats!
Happy birthday to all you lucky summer born dudes and dudettes! I'm sure jealous of you, but I want you to have the best party ever anyway. Please let us know if we can help make your summertime bash a blast!