New Year, New Food
New Year, New Food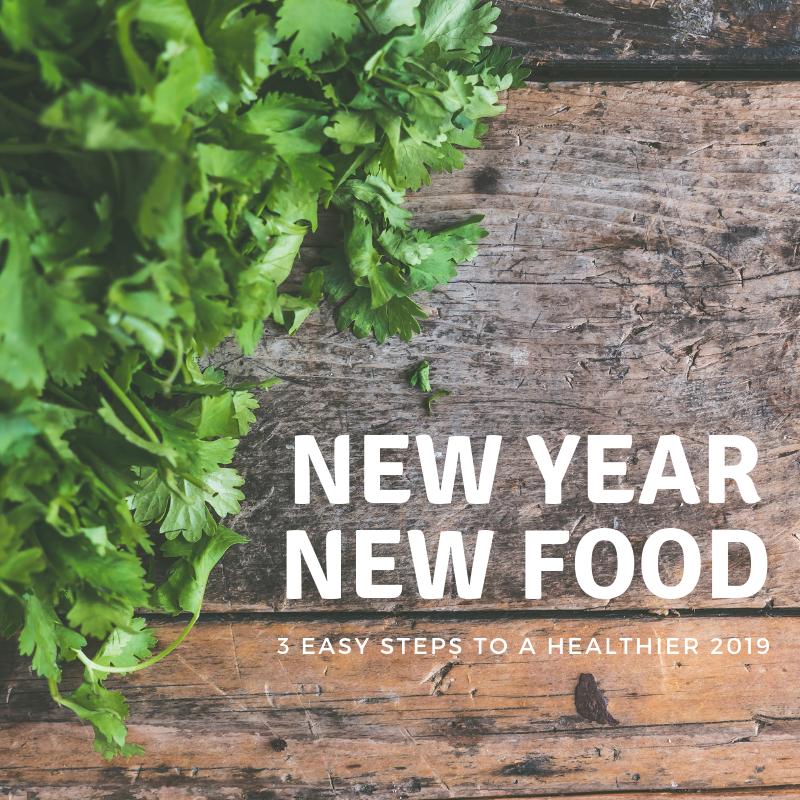 As the saying goes, "Summer bodies are made in the winter". I don't know about the rest of you, but I myself ate enough cheese for the whole year between December 24th and January 1st. I didn't mean to, but I bought lots (like, a real lot) of delicious cheeses for our Christmas Eve party and there was so much left over that I ate it for two meals a day, for many days in a row. Of course there were lots of sweets and maybe too much wine, and before I knew it, my favorite jeans were screaming for help when I tried to put them on. I'm not making a resolution to eat healthier, because somehow resolutions tend to disappear somewhere around Valentine's Day. I'm taking a more practical 3-step approach that will hopefully last through the year.
Step 1 - Cutting the carbs at breakfast. We are a pancake and waffle loving house, and I love to have a giant coffee and a piece of buttered toast, or two, while doing the morning get-ready-for-school shuffle. Not only is not very nutritious to pile on the carbs first thing, but both kids are immediately hungry again and asking for snacks.The easiest way I've found to cut the carbs is to have a protein packed shake. For me, I go with Orgain Chocolate Fudge Protein Powder, ice, unsweetened almond milk, PB Peanut Butter Powder, and a tablespoon of instant espresso powder. The end result is a creamy and satisfying take on a frozen coffee treat. For the kids I use Orgain Vanilla Protein Powder, almond milk, a HUGE handful of baby spinach, chia seeds, and some frozen mixed berries. If seasonal allergies are kicking our butts, a glob of local honey goes in too. (FYI-I'm not being paid by Orgain, I just really love their protein powder) If you're looking for genius ways to sneak in veggies to fruit smoothies for the kiddos, check out Weelicious Smoothie Guide. Who knew frozen cauliflower was a perfect way to add vitamins to a smoothie? Having hard boiled eggs on hand is another quick way to grab a low-carb breakfast.
Step 2 - Meal prepping on Sundays has been a life saver. Some of our go-to's are to grill several chicken breasts (Honestly, the tastiest marinade I've found is cheap Italian dressing. It tenderizes and adds flavor in a jif.) Having grilled chicken handy means easy to make salads and wraps for lunch, and no excuse to grab fast food. While you have the grill on, why not grill up some veggies too? I have recently discovered grilled kale and I'll never be the same. Kids don't really love veggies? Throw them on the grill and I just bet they'll change their minds. Some of our faves are red bell peppers, broccoli, sweet potatoes, brussels sprouts, red onions, and cauliflower. For this, a grill basket is a must so you don't lose any veggies between the grates. Just cut your favorite veggies into manageable pieces, toss in a bowl with a little olive oil and your favorite seasoning, and grill to perfection. Store them in the fridge for a healthy snack or side dish all week.
Step 3 - Menu planning saves money, time, and calories! While we have joined the modern world in using synced calendars on our smartphones, we also have a white board calendar hanging in our kitchen with reminders, appointments, and perhaps most importantly, our weekly dinner menu. I like to see the nightly dinners listed out, so that I have a visual of what we are putting into our bodies, rather than looking at it in retrospect and regretting my choices. I find a pocket of time during the weekend, usually when the kids are in bed, to plan meals for the week. I try to have one meat-free night, and only one carb-heavy/pasta night. Once I have that figured out, I can make my grocery list and use one of the greatest technological advances of our time-the grocery store curbside pick-up app. Can we take a moment to celebrate this achievement? I pick up my loot on Monday morning knowing I have everything I need for the week, rather than zig zagging around the store aimlessly with two kids in tow and getting home only to realize I don't have everything I need and will have to do it all again mid-week.
Of course, staying active is important and I try to exercise three days a week, but they also say that, "Abs are made in the kitchen" and let's be honest, we are really only working out for flat tummies, am I right? Plus, I think when you eat better, you feel better & have more energy, so you're more likely to want to exercise. We can do this! Let 2019 be the year of healthier habits!